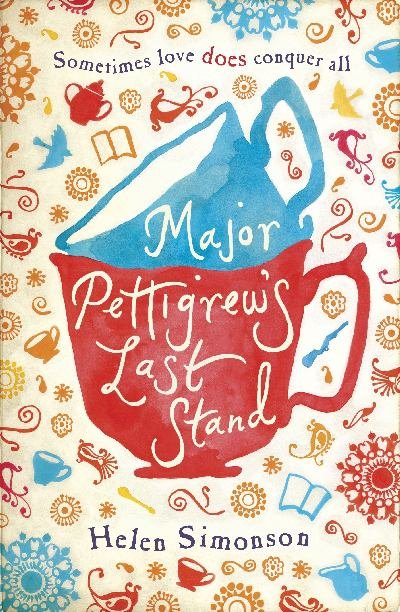 Rating: 9/10
Review:
Every once in a while there comes a book which tackles serious, crucial issues in a seemingly effortless fashion, with heart and elegance. Major Pettigrew's Last Stand is one such heart-warming tale. Set in the beautiful English countryside, in the village of Edgecombe St. Mary, this is the story of a 68 year old retired English Major falling in love with the charming 58 year old Pakistani shopkeeper Mrs.Ali.
As the two find companionship, friendship and love, we realise theirs is no ordinary love story. It is one that is trapped in the conflict of rigid traditions and suspicion on either side, multiculturalism facing its litmus test in the face of subtle yet piercing racism.
Helen Simonson writes like a dream; a dream that brings to life the quaint countryside and the quirks and eccentricities of its people with great wit and charm. Major Pettigrew and Mrs.Ali, united by the loss of their loved ones, their love of literature, make a fascinating couple. The Major is very much a traditionalist (he cannot bear to hear his son use the Royal family as the punchline of a joke), chivalrous, sarcastic and quite hard to dislike. In many a way, Major Pettigrew might be the older version of the oft-referred quintessential 'English gentleman'. Simonson paints a character who despite his stereotypical dislike of certain things/people (his son's American girlfriend whom he initially dislikes mostly for just the fact that she's an American), will grow to accept and adore them once he gets to know them better.
Mrs.Ali is a wonderful character: a staunch liberal, she firmly believes in making her own decisions, is unfailingly polite but won't put up with the disdain of others. The Major and Mrs.Ali are the kind of people who would make wonderful dinner guests: charming, courteous and most likely to provide intelligent conversations on everyone from Kipling to Johnson.
What makes Major Pettigrew's Last Stand special is how beautifully it focuses on the simple joys of life, while delving into complex issues of immense importance: the multicultural experience, how the British society reacts to people who hail from former colonies, racism. Simonson is a delightful, incredibly witty, very quotable writer who handles sensitive themes such as multicultural relationships, falling in love after 60 with understated elegance and respect. Her exquisite turn of phrase is captivating:
'Garden gates and driveways gave glimpses of well-stocked gardens and thick lawns studded with clover clumps and dandelions. He liked the clover, evidence of the country always pressing in close, quietly sabotaging anyone who tried to manicure nature into suburban submission'
Comparisons with Jane Austen ,which is what drew me to this book in the first place, are justified, for Simonson makes sparkling satirical observations on society. Indeed Austen would be proud of this line:
'When true love combines with clear financial motive, all objections must be swept away'
Major Pettigrew's Last Stand is a triumph for how skilfully it interweaves the customs of an English village with the warmth and tensions that come with the breeze of multiculturalism in modern day Britain. As Mrs. Ali points out so beautifully in my most favourite book quote in a long time, 'A couple may have nothing in common but the colour of their skin and the country of their ancestors, but the whole world would see them as compatible.'
Reading this book is as pleasant as drinking endless cups of your favourite blend of tea. If you're in the mood for a tale that demolishes the notions that all 'feel good' stories are light and frivolous, this is the best choice. Major Pettigrew's Last Stand is sure to brighten your day.
[P.S I've heard there are talks going on for making this book into a movie. I'm looking forward to it, for this story should lend itself beautifully to adaptation for the screen!]