Step 1: Find the coziest couch in the World and snuggle onto it with your comfiest cushion.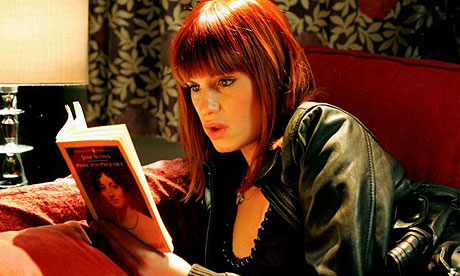 Step 2: Get some icecream.

Preferably chocolate icecream that has a hint of mocha, garnished with gorgeous nuts. Watch Lost in Austen.

Step 3: If you're an Austen purist, good luck watching this.

I suggest you try thinking that Bingley, Darcy, Lizzie are all puppets, willing to be pulled and moved the way anyone wants to. And, be thankful that scriptwriter Guy Andrews has an absolutely delightful sense of humour(
Downtown
? Stroke of genius) . A sense of humour that every Janeite would appreciate with glee.
Step 4: Do not look for loopholes. They are aplenty.

Instead, ignore the inconsistancies, noticeable flaws and look at this TV series for what it is- a delightful and hilarious tribute to Jane Austen's masterpiece and the irrefutable place Pride and Prejudice holds in the hearts of millions.

Step 5: This TV series is the end result of a scriptwriter having great fun playing with our beloved Pride and Prejudice. Expect the unexpected.

Though you may be aghast at some of the extreme liberties taken with the script and the characters, you're so undeniably in love with this tv series that you're willing to look past it. Some juicy details that Guy Andrews drops( 'Claude' Bennet?! Mr. Collins' three brothers. Mr. Bennet actually duels !?), will be best appreciated by the Austen fan who's read the book time and again and longed for more.

Step 6: Enjoy watching how it would be, to be in the midst of Jane Austen's beautiful classic.

Amanda Price is where we would all give anything to be. Inside Pride and Prejudice, playing cards with Lady Catherine, dancing with Darcy and finding help in the most unexpected of places.

Confession: Tom Riley is such a gorgeous man. I'm ashamed to admit I adored Wickham.

Step 7: Be patient. Good things come to those who wait.

Though Lost in Austen is peppered with amazing references that only an Austenite would catch, the best truly comes towards the end. I have gotten extremely tired of authors/script writers trying to work in Colin Firth or the wet white shirt to any Austen inspired book/movie. But here, I have no complaints.

This tribute to BBC's 1995 version of Pride and Prejudice is aptly placed and entirely spell-binding. Guy Andrews, take a bow.

Step 8: Enjoy the performances.

Full marks to the cast. Jemima Rooper is fantastic playing a character that is assuredly going to be the envy of every fan of Austen.

And thank you Mr. Casting Director. Thank you for Elliot Cowan.

Step 9: Watch out for the beautiful costumes.

Pemberley is of course, as beautiful as it ought to be. The costumes, especially Amanda Price's, are gorgeous. Plus, if you like me adore old fashioned libraries and books, the scene where Darcy stands in front of the neatly decked books is totally attractive.

Step 10: Try to watch this TV series with some fellow Austen fans. The experience is as good as you can ever imagine :)

This is the second time I watched Lost in Austen and I enjoyed it thoroughly, again. Also, this makes it 4/12 in my Extended Austen Challenge.