It's probably a personal thing, but non-fiction always seems to strike me emotionally much more than fiction. I love reading biographies, memoirs, political/historical books and this year was an amazing reading year for me, non-fiction wise! Without further ado, here's my list of the top five non-fiction books that I would recommend to anyone interested in these subjects:
Thousands of books have been written about India, Pakistan and the conflicts and the hurdles that hamper a good relationship between the two neighbours.
Diplomatic Divide: Cross Border Talks
is different because this book sees Indo-Pak relations through the eyes of
Pakistani diplomat Humayun Khan who served in India and former Indian diplomat G.Parthasarathy who served in Pakistan.
Therefore, the book places on the table both sides of all the issues that India and Pakistan call 'core issues'. Since the book is written by men who have actually been part of decisions that have shaped the way India and Pakistan interact with each other, their thoughts hold a lot of weight. Also, the book isn't stuck in chronicling the follies and lost chances of the past, but also makes important suggestions for the future. To everyone interested in the history and politics of India and Pakistan, I highly recommend
Diplomatic Divide: Cross Border Talks.
I remember having a conversation with a friend who was talking about how she's not a huge fan of foreigners writing about India. I think I told her 'Well, William Dalrymple writes beautifully about India. Oh wait, I don't really think we can call him an outsider'. And that's exactly the thing about Dalrymple. He writes about India like he really cares about the country and not as a condescending collection of stereotypes and cliches that a Western audience expects. City of Djinns is his tribute of sorts to Delhi and everything about it, from the people to the Sufis to Yunani to Partition to Bureaucratic red tape to the Mughals. His writing is witty, smooth and easy and engages you in a journey, discovering the charm, beauty and complications of Delhi alongside Dalrymple. If you've ever been to India/Delhi or want to, this book is an absolute must-read!
Anyone who's been following my blog for a while will know that I'm a huge fan of India's first Prime Minister Jawaharlal Nehru and his writings. Letters from a Father to his Daughter is a collection of the letters Nehru wrote to his daughter Indira (Gandhi) when she was ten. Nehru writes with such grace as he explains in exquisitely simple language the story of the world, its civilizations, India and her people, nature and so much more. This book seems to have been geared towards an Indian audience, but I earnestly believe that every child, across the world, ought to be given a chance to read this book. Nehru's world view, his opinions and his dreams for his country and his fellow citizens is reflected beautifully in this book. The values that he speaks about and the small anecdotes and messages that he teaches his daughter are universal. This is one of those books that I'd love to pass on to my children.
This book is a masterpiece. Writing a biography of a man who lived a full and busy life that saw history being made, the birth of two countries and the journey of fragile, battered young India being strengthened and healed, is an incredibly tough task. Nehru left behind a voluminous collection of letters to family members, Chief Ministers, Heads of States, apart from his own books. This might become a biographer's nightmare since there's just too much material about the man. But M.J.Akbar does an admirable job of chronicling the life of one of India's most charismatic, intellectual and visionary leaders.
At a time when blaming Nehru for every single problem has become the fashion, M.J Akbar's biography is an important book to read. Nehru: The Making of India does not acquit Nehru of the mistakes he made, but does not shy away from showering praise where it is required. This is an amazing portrait and rich tribute to a man whom many love, many hate but nobody can ignore when talking of India.
My pick for Non:Fiction Book of the Year is actually my Book of the Year. I know genres make some books incomparable, but I have no hesitation in picking this incredible, shattering book as my Book of the Year.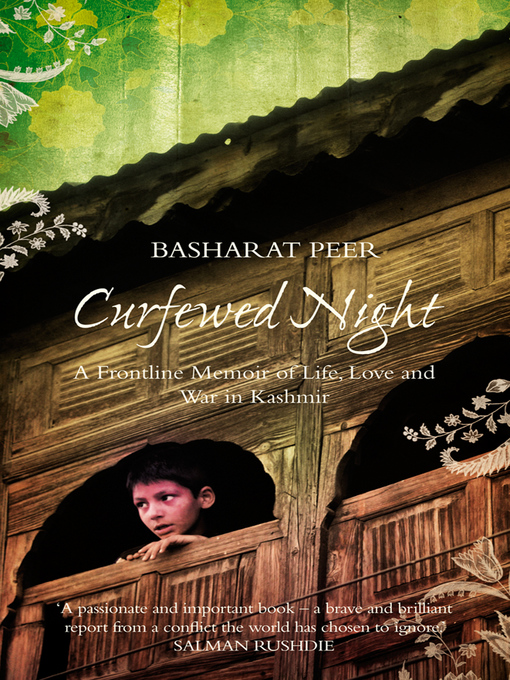 This book has found a place in so many 'Best of 2010' lists that I've lost count. More importantly, Curfewed Night deserves each and every one of the recommendations and awards it has got. This is journalist/writer Basharat Peer's part-autobiographical tale of Kashmir and what it means to be a Kashmiri. This is a book that shatters the comfortable cocoon of myths on the basis of which many people see the valley. It is a heart-breaking, emotional and incredibly important book that every Indian ought to read. Peer has spoken in many an interview about how tough it was to write the book, but his writing itself flows with such ease and brutal honesty, conjuring unforgettable images of his Kashmir. The places he visits, the many people he meets, all have a story to say, a story it is time we listened to.
Curfewed Night had me in tears more than once and refused to let me put down the book and turn to happier things. One of the things that Peer writes about in this book is his anger and sadness at the fact that almost every zone of conflict in the world has many books written about it by its own people, except Kashmir. Peer need not worry about that any longer. His book serves as that unforgettable voice that helps us understand the many realities of the valley. Many people have many opinions on Kashmir and for them all, this book is highly recommended. The way you look at Kashmir may never be the same again once you read Curfewed Night.